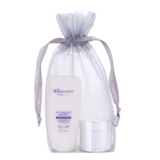 EXCLUSIVE Elemis Nourish And Unwind Gift Set
Elemis Nourish and Unwind Gift Set is the perfect
present to indulge mum with this Mother's Day.
Presented in a sweet silver draw-string bag,
this set includes award-winning Elemis Skin
Nourishing Milk Bath plus a mini Lavender
scented candle for a truly exquisite bathing experience.
EXCLUSIVE Elemis Pro-Collagen Perfection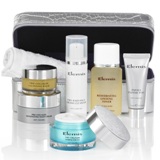 Your complete anti-ageing regime for perfectly
cleansed and nourished skin. Presented in a
gorgeous silver vanity case, carry your the
power of Pro-Collagen with you wherever
you go. This collection includes: Pro-Radiance
Cream Cleanser 30 ml NEW Pro-Collagen
Cleansing Balm 20g Rehydrating Ginseng
Toner 50ml Papaya Enzyme Peel 15ml
Limited Edition Pro-Collagen Marine Cream
30ml Pro-Collagen Oxygenating Night Cream
15ml 100% Cotton Wash Cloth
EXCLUSIVE Elemis Shower Indulgence Duo Gift Set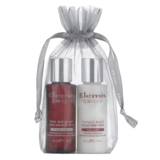 A luxury Christmas gift set for her of
exquisite shower experiences to either
uplift and revitalise, or unwind and soothe.
Includes: Lime & Ginger Hand & Body Wash
50ml Tranquil Touch Creamy Body Wash 50ml
Elemis Beauty Treasures
Discover a world of beauty treasures with this award
winning collection of advanced face and body care to
smooth, brighten and boost hydration. Featuring luxurious
products to pamper yourself or someone special, this
set will leave you feeling relaxed and glowing this
holiday season. Includes: Skin Nourishing Milk Bath
400ml FULL SIZE Pro-Radiance Cream Cleanser
150ml FULL SIZE Frangipani Monoi Body Oil 100ml
FULL SIZE Pro-Collagen Marine Cream 50ml FULL
SIZE Papaya Enzyme Peel 50ml FULL SIZE
Worth £211.00
Now £135.00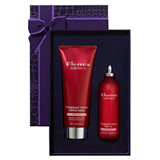 Elemis Frangipani Secrets Collection
Send them to a foreign land without leaving the
country. This duo of exotic bodycare is infused
with Tahitian monoi and frangipani flowers for
beautifully scented, soft supple skin. Includes:
Frangipani Monoi Shower Cream 200ml FULL
SIZE Frangipani Monoi Body Oil 100ml FULL SIZE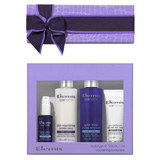 Elemis Indulgent Treasures Collection
The Indulgent Treasures collection features
products for the ultimate bath and bodycare ritual
to leave skin intensely moisturised, deeply relaxed,
and restored. Includes: Skin Nourishing Shower
Cream 100ml Quiet Mind Bath Elixir 100ml Pro-
Radiance Hand and Nail Cream 20ml Quiet Mind
Temple Balm 15ml FULL SIZE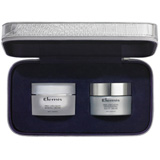 Elemis Precious Pro-Collagen Duo
The Precious Pro-Collagen Duo is the perfect
entry gift into anti-ageing skincare. Discover
the power of Pro-Collagen with this award
winning duo for plump, firm and toned skin.
Includes: Pro-Collagen Marine Cream 30ml Pro-
Collagen Oxygenating Night Cream 30ml
Elemis Pro-Collagen Jewels
Discover a world of beauty treasures with the
ultimate Pro-Collagen gift. Brimming with multi
award winning Elemis products, this collection
makes the perfect gift to turn back the hands of
time and fight the signs of ageing. Includes:
Pro-Collagen Marine Cream 10th Anniversary
100ml SUPERSIZE Cellular Recovery Skin Bliss
Capsules 60 Caps FULL SIZE Pro-Collagen Lifting
Treatment Neck and Bust 50ml FULL SIZE
Pro-Collagen Oxygenating Night Cream 30ml
Pro-Collagen Cleansing Balm 30g Pro-Collagen
Advanced Eye Treatment 15ml FULL SIZE Luxury
Cotton Cleansing Cloth
Worth £347.00
Now £199.00